Capel Computing
At Capel we aim to provide the foundations for understanding the world through Computing knowledge, behaviours, and skills that will empower and enable all as competent citizens regardless of social status, race, gender, nationality, and religion; helping to engender an appreciation of human creativity and achievement.
We believe Computing is successful when we:
achieve, understand and apply the fundamental principles and concepts of computer science, including abstraction, logic, algorithms and data representation

creatively analyse problems in computational terms, and have repeated practical experience of writing computer programs in order to solve such problems

actively evaluate and apply information technology, including new or unfamiliar technologies, analytically to solve problems

are responsible, competent, confident and creative users of information and communication technology.
Click here to see how we teach Computing at Capel Manor.
At Capel Manor we are dedicated to ensuring that every child is electronically safe and that children are empowered to report and manage their digital activity, whether it be on a tablet, computer, phone, social network or while gaming. With the ever expanding nature of our digital world, it is vital that we are all aware of the dangers and know how to be safe.
As part of this we have asked all staff, children and parents/carers to sign an 'Acceptable Use Agreement' outlining all expectations around being safe Online; especially when it comes to children.
You can review these on the following links:
Acceptable Use Agreement for Reception and Year 1
Acceptable Use Agreement for Year 2, 3 and 4
Acceptable Use Agreement for Year 5 and 6
Parent / guardian acceptable use agreement
Acceptable Use Agreement for Staff
Here are some suggested websites and apps that children - and parents - can try at home:
https://www.j2e.com/j2code/ - J2code
http://www.crunchzilla.com/code-monster - Code Monster
https://scratch.mit.edu/ - Scratch
https://www.tynker.com/hour-of-code/ - Tynker, Hour of Code
https://www.codeforlife.education/rapidrouter/ - Rapid Router
https://www.kodable.com/ - Kodable
https://www.codecademy.com/ - Codecademy
https://code.org/ - Code.org
https://blockly-games.appspot.com/maze - Blocky Maze
http://www.bbc.co.uk/guides/z3c6tfr - BBC Touch-typing Mat
http://www.abcya.com/ - ABCYa
http://www.artisancam.org.uk/ - ArtisanCam
http://storybird.com/ - Storybird (stories creator)
http://www.swiggle.org.uk/# - Swiggle
https://www.certstaff.com/computers-for-kids.html - Computers for Kids!
Apps (iPads, tablets and Smart phones):
Scratch Junior, Daisy the Disnosaur, Sock Puppets, Puppet Pals, Zooburst, Music Sparkles, ALEX, Hopscotch, Kodu, Tynker, Dynamicart lite, Pic Collage, Art Set / Doodlebuddy, Singing Fingers
Here are some projects we have worked on so far:
We are cartoonists and animators - year4
In Year 4 the children planned their animations and then coded their program in Scratch
'Don't meet up with strangers you have met Online'
Planned and animated by Milly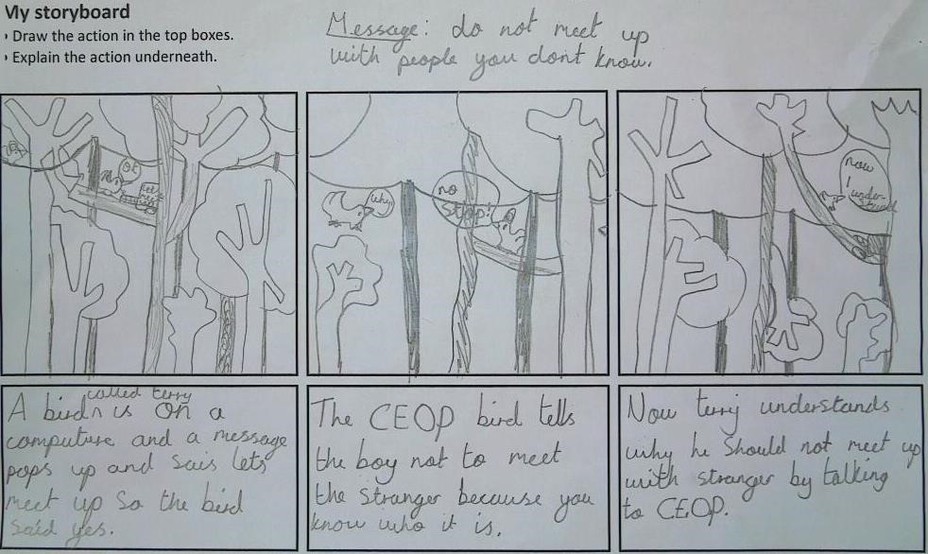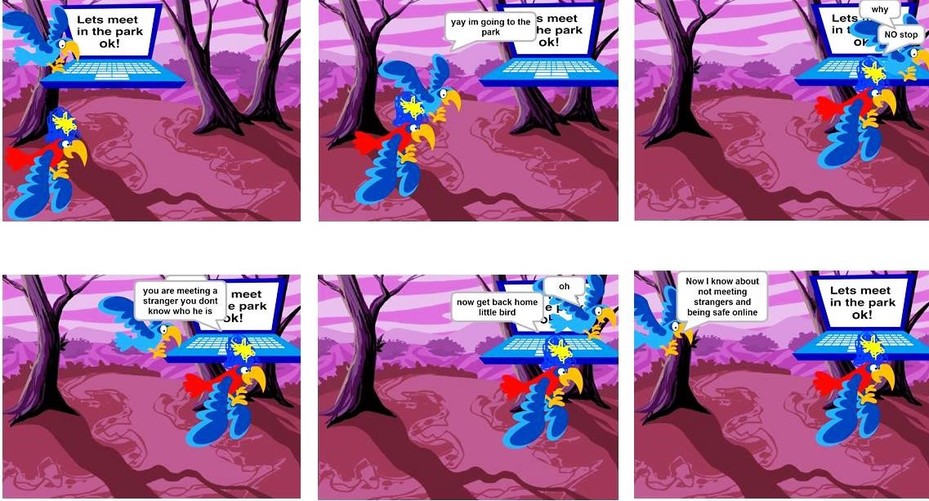 Click here to watch the full animation (to link up to video)
'Don't give out your private information Online'
Planned and animated by Jayden and Tayla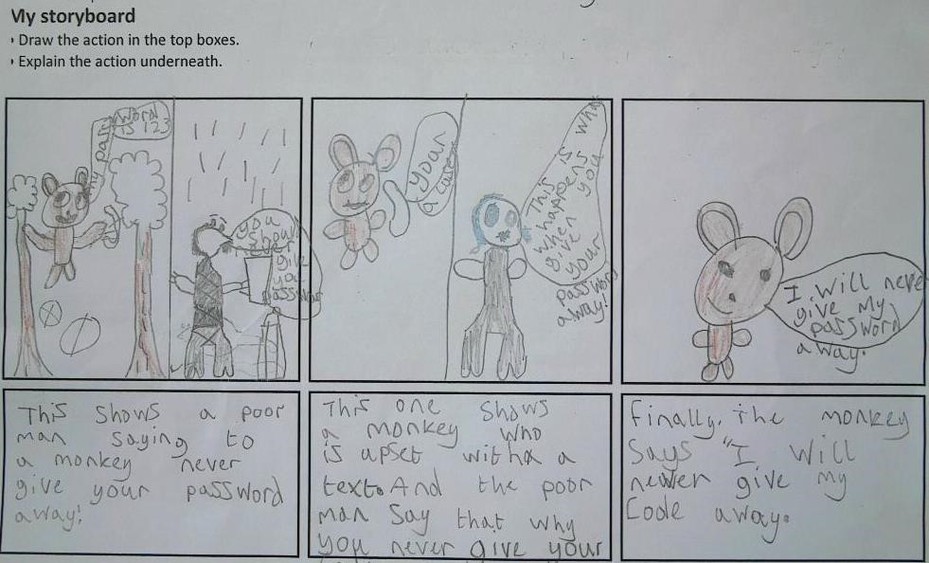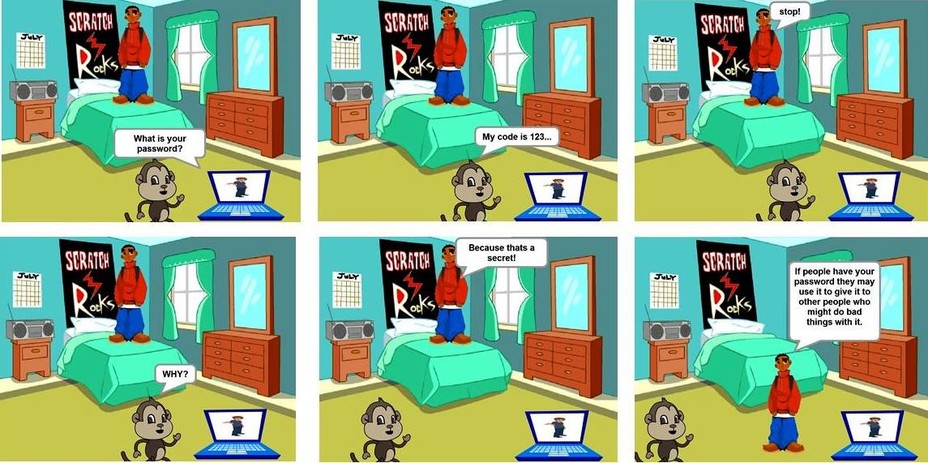 Click here to watch the full animation (to link up to video)
You can learn much more about how to code and can even have a go yourself! www.scratch.mit.edu
We are online collaborators - year 3
The children have completed this using a secure online tool that allows them to network securely. As part of this, we have learned the importance of keeping our passwords safe and how to secure information we share online by adjusting the security settings.
In Year 3 the children have shared their ideas on what to do if they do not feel safe.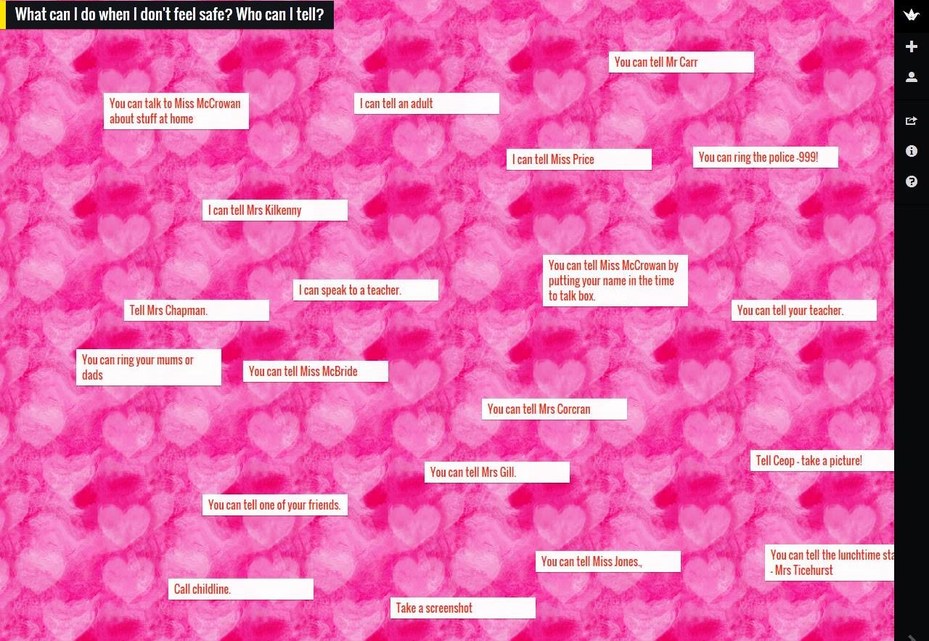 In Year 4 the children have shared questions about their focus book to help them better understand the story.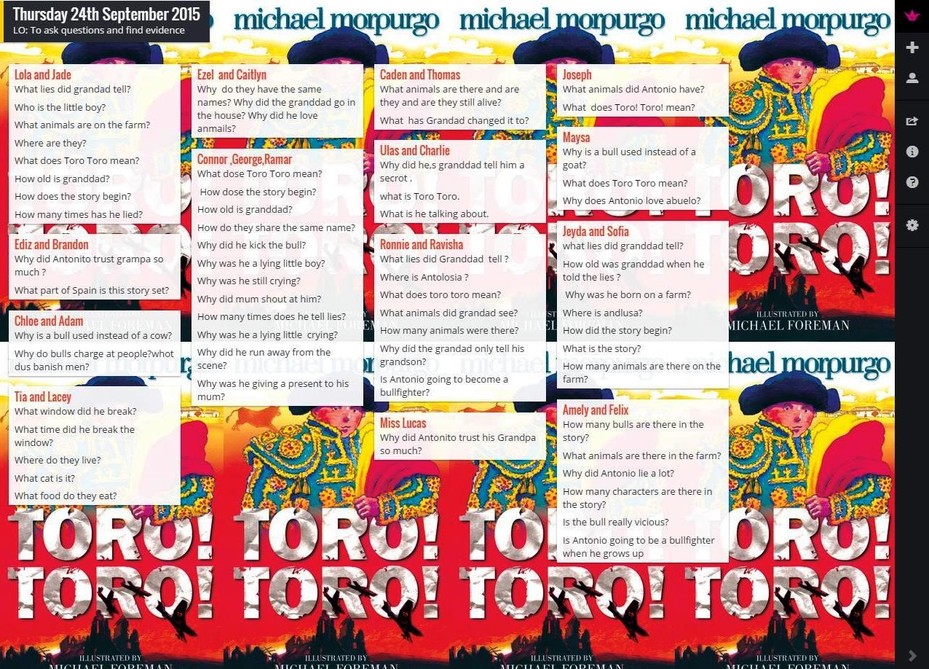 You can also create these wonderful networking opportunities on www.padlet.com (to link up to padlet)