Author David Walliams congratulates Capel Manor for winning the Summer Virtual Olympics 2020 - Reading all the way to Tokyo
It's now time for you all to relax and enjoy the summer break, what better way to do so other than embarking upon a new and exciting adventure through the love of reading?
At Capel Manor, we understand that reading is the fundamental skill children need to confidently access all areas of their learning and to enable our children to be successful as they continue to flourish through learning journey. It is very important that our children keep up their reading skills during the summer holidays, here are some reading activities to keep them busy during the holiday...
Summer Reading Bingo!
Here is a fun bingo challenge to complete be the end of the holidays- see how many different genres of books you can read and how many different places you can enjoy your time reading!
Reading Summer Challenge: Make space for reading this summer...
This year there is a reading summer challenge available for all children across the country. The Summer Reading Challenge website is free to access and a place for children to rate and review books they choose to read. The website includes; videos, games, quizzes, digital and downloadable activities to encourage children to take part in the challenge at home.
How to join...
1. Click link to access website: https://summerreadingchallenge.org.uk/ and click the blue 'JOIN NOW' button to get started.
2. Parents, enter your email address (every child account must be linked to an adult's email account).
3. Pick a User name and a password,- make it unique by using a mixture of letters and numbers (we recommend you do not use your child's real name).
4. Enter child's name and click 'Submit' to move onto the next page.
* An email asking for parental consent will be sent to the email address you inserted. Click link 'Review child account request'. Enter your own parent username and password. Once you have signed in, you will land on titled page 'Your child's account'. Complete the fields and tick the relevant boxes to confirm that you give consent for your child's account. Once this process has been set up your child will be able to sign in freely and securely.
If you experience any problems, click 'Need Help?' button found on the 'about page: https://summerreadingchallenge.org.uk/help
Wishing you all a wonderful summer break... Happy reading!
Reception Reading Summer bingo KS1 Reading Summer bingo KS2 Reading Summer bingo
Here are some maths activities for you to do over the summer! There are activities for children in key stages 1-3. There are activities attached to this web page.
Enfield Hub would love to see what you have done so please do send them pictures of your work – there are instructions on how to do this at the bottom of the maths activities.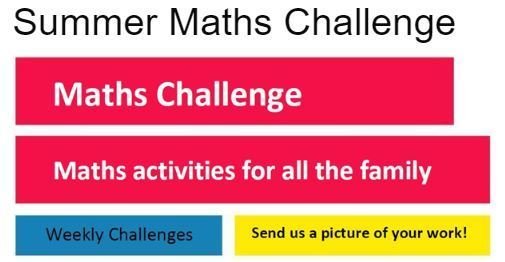 Enfield Schools and Early Years' Service is running series of weekly Maths challenges for children aged 5-13 which children can do individually or with their family. Many of these activities will involve solving problems and creating objects and we would love to see Enfield children's work.
A gallery of Enfield children's mathematical work will be available to view from mid-May 2020.
Have a go at these challenges on a weekly basis or just have a go at one that you like the look of.
Click on the picture below to check the complete information from the organisers.